Learn how to add a connection
The more people you add, the more insight you'll see about what you value in your connections.
On this page you can find out about:
This process helps you to add data about why you value people you're connected to.
To map a connection, click on the add a connection menu button. This takes you to the add connection form.
1. Entering your data
You will be asked for your connection's name and email address. If you know your connection is already using AKOU, it's important to use the email address that is linked to their account.

If you want to invite them to AKOU to take part in the project make sure to tick the check box below the email address field.

After this first stage you'll be asked a set of questions about your connection and your relationship with them.
Most questions are multi choice style in answer – click on the options that feel right for you. You can deselect them by clicking on it again.

Make sure to click the finish button so that your data is submitted.
2. Seeing your insights
After completing the short form the data you've entered will be added to your What you said dashboard, in the My value section.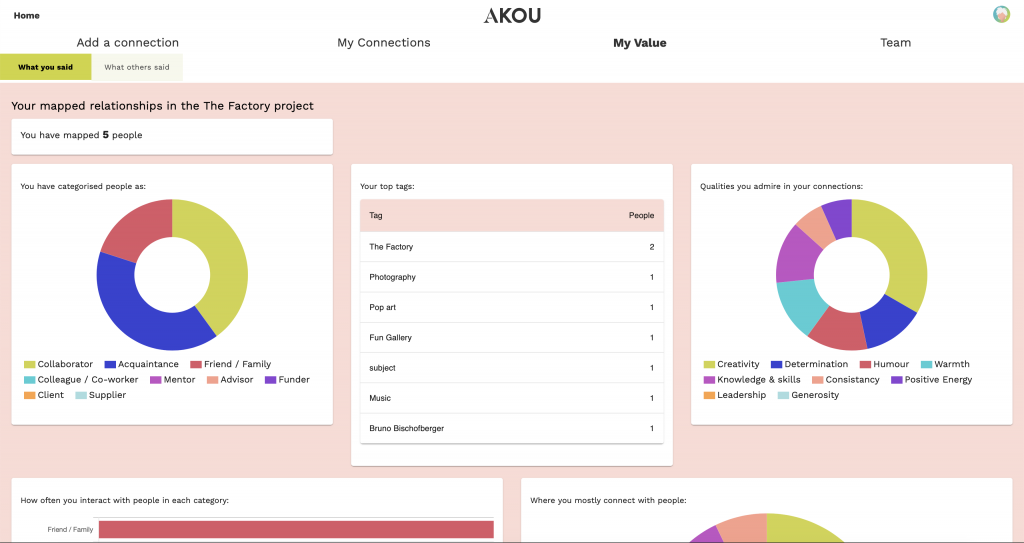 Your connection will also appear in your My connections list, where you'll be able to see if they reciprocate the connection.

Once your connection has valued you back, you'll get a notification on the home page and be able to see a snippet of why they value you. You will also see the insights be added into the What others said dashboard.
EXPLORE: learn more about your value dashboards.
---